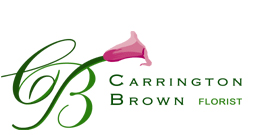 Funeral flowers
Carrington Brown is aware how such a difficult time this can be, so we aim to offer ideas or suggestions that will help create your own personal tribute and be as stress free as we can.
We offer a range of designs, from contemporary to traditional, including sprays, wreaths, and floral arrangements.
We can also create a design that is more personal to you on request.
Our experienced staff will assist you in ensuring your order reflects your requirements at this challenging time.
For a more personal service, call Carrington Brown today to discuss your requirements and talk directly to the florist who will make your arrangements.